What is GIS?
A geographic information system (GIS) integrates hardware, software, and data for capturing, managing, analyzing, and displaying all forms of geographically referenced information in a mapped format. GIS allows us to view, understand, question, interpret, and visualize data in many ways that reveal relationships, patterns, and trends in the form of maps, online mapping services, globes, reports, and charts.
Where can I find more information about GIS?
A good place to start is to visit www.gis.com. GIS.com is a portal to GIS information on the Web and was created by Esri, a GIS software developer. The site is intended to educate anyone interested in geographic technology on the value that technology brings to his or her day-to-day activities.
 
How do I have a map made?
Maps are available per request from Okaloosa County GIS. The price list for printed materials is available here.
Where is the Okaloosa County GIS office located?
Our office is located at 1250 Eglin Pkwy N, Shalimar, FL 32579 in Suite 303.
How can I get in contact with the Okaloosa County GIS office?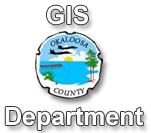 Please visit our Contact Us page.